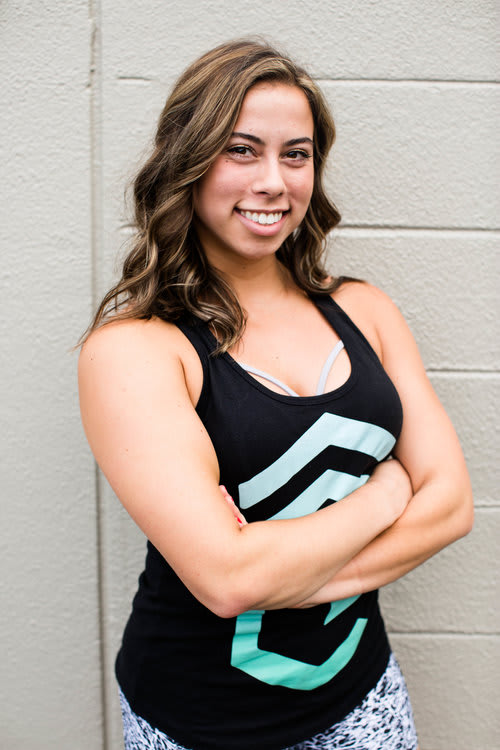 Maycee Nicholas
Born in: Royal Oak, MICHIGAN
Favorite food: everyone said Asian, but same. Especially the Asian food experience at trendy Thai restaurants in NYC.
If you could have one super power, what would it be: to cure scoliosis with my brain and hands (working o
n it)… and to eat all the brownies but maintain all the bod goals.
Favorite music: anything I can dance to.
Favorite quote: "Comparison is the thief of joy"
Favorite hobby outside of the gym: traveling —> and eating and dancing in those traveled places

:D
Favorite training/exercise method/lift: anything that promotes ultimate spinal alignment. I love some challenging accessory/band exercises for those underworked muscles that are sooo important (@glute med+min, posterior rotator cuff, transverse abdominis, etc.)
Least favorite workout/lift: anything overhead with a barbell… it's a personal problem. Don't hate me!
Proudest accomplishment: gaining experience as a pioneer in the things that I care deeply about: dance, the human body, pain relief, being a GOOD person, helping others, etc.
Why did you get into the fitness industry: I fell in love with competitive dance at age 10, and was diagnosed with 36-degree curve in my spine at age 12. My passionate love of my sport was threatened, along with my entire life's trajectory. An orthopedic surgeon told me I'd need rods in my spine one day, and I've been motivated to prove him wrong ever since. My love for the human body (and my body) is rooted in everything I work to achieve.
What is the one message or piece of advice you would give to a new potential Elevate member: Growth/improvement/success… they're not linear. It's a jumbled freakin' mess that definitely won't look perfect or feel easy. Enjoy the process and assume responsibility for what is YOURS. If it's not yours, let it go. This is a lifestyle.
What is the most inspiring part of your job: Watching the confidence progress in an individual, and seeing them give it to someone else who needs it, too.
Cats or dogs: pupparoos; preferably my size or larger because I need the physical support of a pregnancy pillow like, always.
In another life, I'm pretty sure I was: a famous chef who cooked her life away, which is why I hate it so much in this life

;)
Sweet or savory: dairy-free chocolate everything or DIE