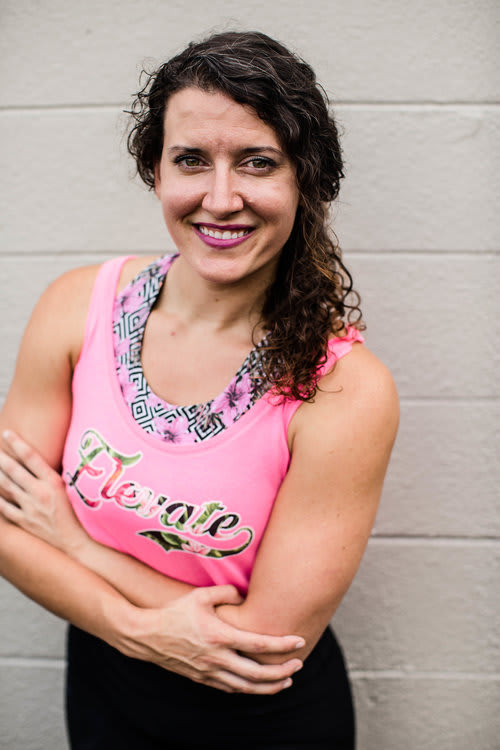 Jacky Burton
Born in: Sneads Ferry, NC
Favorite food: the food I'm eating next! I love to eat and eat often. It's especially fun to find good spots to eat when traveling.
If you could have one super power, what would it be: Hermione Grainger style magic. You could travel around easier, chores wouldn't be so horrible, just no Voldemort, please.
Favorite music: something fun and upbeat, bonus points for being able to dance to it: Ska/Punk, Lizzo, GGFO
Favorite quote: You need to get up, get out and get something. How will you make it if you never even try? – OutKast
Favorite hobby outside of the gym: Roller derby and Sewing (not at the same time)
Favorite training/exercise method/lift: anything to improve the

??
Least favorite workout/lift: distance running or burpees
Proudest accomplishment: Getting a single pull-up. I never imagined it was something I could physically do prior to Elevate.
Why did you get into the fitness industry: I found Elevate as a member first. My experience here was something so powerful and wonderful, I wanted to share that with others.
What is the one message or piece of advice you would give to a new potential Elevate member: It's normal to be nervous before starting something new. Most of us, my self included, have this fear that we'll be the (oldest, youngest, heaviest, slowest, etc) person there. We worry how the others will think of us. The magic of Elevate is we have intentionally created a community of people who don't care where your starting point is. It's that you show up, have fun, and give good high fives. We help each other grow in a super supportive community and like to have fun
What is the most inspiring part of your job: Being around so many people who are learning to make thier health a priority. Seeing their confidence in themselves grow. It's pretty magical to work at Elevate and see this every day
Cats or dogs:

??

Dogs. but also, cat's don't care how you answer this question.
In another life, I'm pretty sure I was: having fun and helping people somehow. It's so ingrained in who I am, I can't imagine that not being in there somehow. Oh, and probably rollerskating!
Sweet or savory: Savory!!